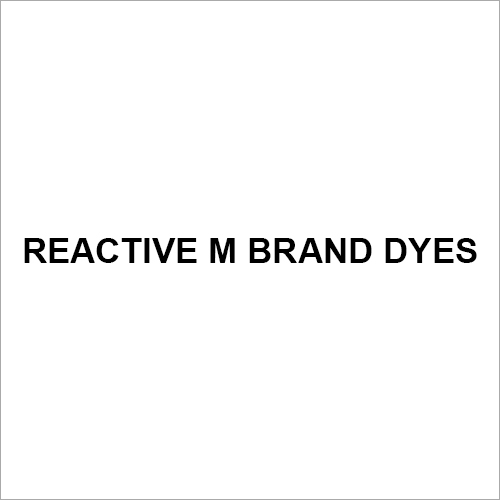 Reactive M Brand Dyes
Product Description
Based in Ahmedabad, Gujarat, we are a 1992-established company engaged in manufacturing and supplying of Reactive M Brand Dyes. They are widely used for dyeing and printing of textiles such as polyester, cotton, and various other cellulosic materials. These dyes can easily be prepared by pasting it with a little water and pouring boiling hot water over it under stirring. Offered Reactive M Brand Dyes can be used for screen printing, block printing, stenciling and dying on cotton, rayon, Tencel, and silk. They can be availed from us in different colors and shades such as lemon yellow, golden yellow, orange, pink, blue, and many others.
Reactive dyes
JAFFS DYE CHEM Offers a wide range of Reactive Dyes for dying and printing of textile from last two decades.
Reactive Dyes Classified as:
Vinyl Sulphone Based Reactive Dyes: Having moderate reactively and popularly used for printing and silicate pad batch method dying are mostly dischargable.
Cyanuric chloride based Reactive Dyes:
H Acid: Having modrate reactively require strong fixation condition.
M Dyes: Highly reactive, requiring strong fixation condition.
HE Acid: Specially developed for Exhaust Dying.
Bifunctional 'ME' type Dyes
DYE SOLUTION:
Reactive dye dissolved by pasting it with a little water and pouring boiling hot water over its under stirring. The water used should be neutral. One gram per liter of Sodium Hexa Meta Phosphate may be added if the water is hard.
FABRIC SOLUTION
The fabric to be dyed should be thoroughly boiled, desized, bleached and made highly absorbent and neutral in pH to get good results. For deeper shade in cotton, the material is to be either mercerized or causticised with 28°Be' caustic solution. For viscose, caustic treatment may be made with 6 to 8°Be' caustic solution. The treated material, in all cases should be made neutral prior to use.
Reactive Dye Applications for Screen Printing, Block Printing, Stenciling and dying on Cotton, Rayon, Tencel, and Silk using thickened dye paint for pattern control and also for fixing dye on your Fabric.
REACTIVE M BRAND DYES

SHADES (DYEING)

PRODUCT NAME

C. I. No.

CAS No.

0.40%

4%




LEMON YELLOW M4G

YELLOW 22

12226-49-2




GOLDEN YELLOW MR

YELLOW 44

12270-91-6




YELLOW M4R

ORANGE 14

12225-86-4




ORANGE M2R

ORANGE 4

12225-82-0




RED M5B

RED 2

17804-49-8




RED M8B

RED 11

12226-08-3




PINK MB

RED 74

12270-82-5




MAGENTA MB

VIOLET 13

12270-87-0




VIOLET C4R

VIOLET 12

12237-11-5




TURQ.BLUE MXG

BLUE 140

71872-74-7




BLUE MRB

BLUE 4

NO13324-20-4




NAVY BLUE M2R

BLUE 81

75030-18-1
Contact Us
1, Gidc Industrial Estate, Khodiyarnagar, Behrampura, Ahmedabad, Gujarat, 380006, India
Phone :+918037402565